Every year I feel like Thanksgiving sneaks up on me. I don't know if it's with everything going on for Halloween the month before with the rush to get costumes finished, making sure I have enough candy for all the potential trick-or-treaters, and numerous Halloween parties.
Just a couple weeks after that it's my older daughter's birthday, and then — woosh, it's Thanksgiving!
Of course this time of year has become associated with the start of the holiday season and giving gifts.
And of course, BLACK FRIDAY.
Or, that time of year when your inbox is bombarded with e-mails telling you about all of these amazing deals and OH MY GOODNESS YOU NEED TO BUY ALL THE THINGS!
Which, of course, you don't actually need to do.
So, before you rush to fill your Amazon cart with the latest amazing deal for your kids, here are a few tips for eco-friendly gifts ideas for the important children in your life.
For your convenience, this post contains some affiliate links. You can read my full disclosure here.
1. Give the gift of your time
Instead of giving a physical gift, why not do an activity together? The happy memories will last longer than most toys and they'll never outgrow it! Here are a few ideas to get the ball rolling:
Take your child to a movie (personally, I'm super excited to take my older daughter to see Frozen II) or a play. Or, create a home-movie experience complete with a popcorn "bar".
For older kids, take a class together, either online or in-person. Lots of community adult education centers have classes, or check to see what unique opportunities are in your area.
Take a day trip to somewhere you've never been before. Bonus points if you can take an alternative mode of transportation, such as the train!
2. Give an experiential gift
Somewhat related to the previous idea, another more environmentally friendly gift idea is an experiential gift, such as a museum pass. For the past few years, my parents have gifted my girls a pass to our local science museums. We can go whenever we feel like it and stay as little or as long as we'd like, and it's perfect for vacation and weekend days. (And as an added bonus, many museum passes offer a level with reciprocity at other museums, which is great when you're traveling or if you want to try out a new one for your day date.)
Here are some additional ideas:
A class for something they've wanted to try
A pass to a local drop-in play center
Create an indoor planting kit your child can plant and tend too (a lot of herbs do well indoors, and you can use reusable containers your kiddo can decorate)
Movie or sports game tickets
An afternoon of something adventurous, such as indoor rock climbing or ice skating
3. Make a donation in their honor
While on the surface this might not be the most exciting gift to a kid, it's a great way to instill a sense of giving at a young age. You can make it more tangible and interesting for them by explaining something concrete that will be done with their donation.
For example, if you want to donate to an organization that promotes green energy, you could explain that your child is helping to build a wind turbine. You could even pair it with a book about green energy or a picture of a framed wind turbine to put up in your child's room.
Here are some environmental organizations to consider donating:
Your state's Audobon society (in Massachusetts it also allows us to visit some really great kid-friendly spots)
4. Gift something that's gently used
I'm not sure why as a society we tend to only find value in things that are brand new versus something that has been gently used AND has stood the test of time, but personally if I want to give a physical thing I'm a huge fan of gifting something that's used.
We've gifted our children some really nice gently used toys over the years, including a Goldiblocks set I found at my local Goodwill.
(And as an added benefit, no offgassing of toys that had been wrapped up in plastic in a factory somewhere for goodness knows how long)
Check out your local thrift and consignment shops, Craigslist, and Facebook Marketplace. You can also check out an online shop, such as eBay or Swap.com.
Also, consider making them something. Here are some DIY gift ideas using upcycled or recycled materials.
And two other things to note while we're on the topic of having a more eco-friendly holiday:
Eco-friendly holiday cards
I've got to admit, I love giving and receiving photo holiday cards. That said, I've been contemplating whether I should continue to do it for environmental reasons.
If you're not ready to give up sending out holiday photo cards, here are two alternatives:
Send out an electronic card, such as on Paperless Post.
Send a more environmentally-friendly photo card. Personally, I'm a huge fan of Artifact Uprising and have used them the past few years. They're a bit pricier, but they're super high quality and often have sales around the holidays. Bonus points if you send a postcard to reduce the need for an envelope — you'll also save on postage!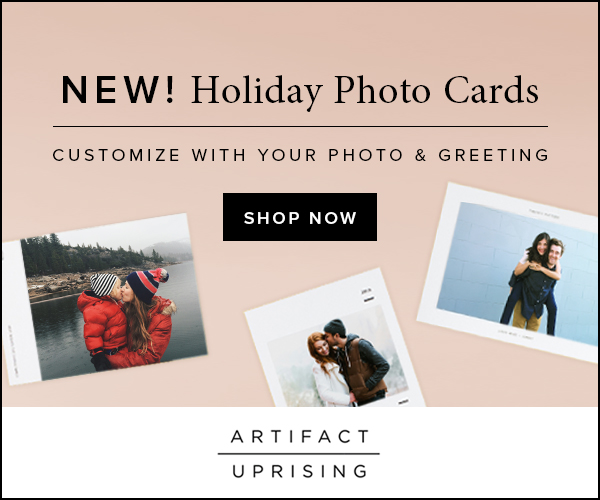 Offset your travel
Many people travel over Thanksgiving and/or Christmas to visit friends and family or to go on vacation. Unfortunately, flying has a huge environmental cost. According to a Guardian study, "Taking a long-haul flight generates more carbon emissions than the average person in dozens of countries around the world produces in a whole year."
If you fly, consider offsetting your carbon emissions from your flight by donating to an organization that's actively working to reduce emissions, such as one that plants trees, prevents rainforest destruction, or builds green energy infrastructure. To make it easier, consider signing up for a new organization, Jet Set OffSet, that helps you to calculate how much to donate and links you to some nonprofits.
Looking for some green holiday gift ideas for grown-ups? On my other blog, I have a post with additional eco-friendly gift ideas.
And if you're looking to buy from a shop with eco-friendly products that have already been vetted for you, I cannot say enough good things about Earth Hero.
Share the love!
Shares on social media is how this site grows. If you know someone who would find this helpful please share it on Facebook or on your favorite eco-friendly living board on Pinterest.